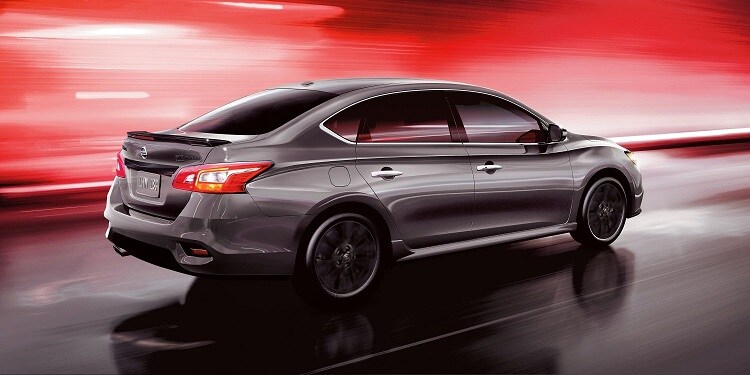 We Offer The St. Louis Nissan Sentra SR Midnight Edition

New Sentra Lease Specials+ Nissan Incentives+ Nissan Sentra Midnight Edition = Huge deals for everyone

Find exclusive Nissan Sentra SR Midnight Edition prices near St. Louis at our local Nissan dealership. We offer some of the best Nissan deals and lease offers , plus great financing on this fantastic vehicle. Come experience the luxury of driving an affordable 4-door compact sedan with over 90 cubic-ft of passenger room, 5-passenger seating, advanced cutting edge technology, incredible fuel efficiency, and  a stunning design. Elevate your driving experience with adjustable premium sports clothe trim seats, and  a tilt/telescopic  leather wrapped 370Z inspired steering wheel. Transform your style with elegant aerodynamic black on black Midnight Edition 17-inch alloy wheels. Outshine the competition and strike attention at every twist and turn.  Give yourself new Nissan sedan that fits your style and budget. Come experience the new St. Louis Nissan SR Midnight Edition. Visit us today at 10964 Page Ave Saint Louis, MO 63132. We look forward to helping everyone in St. Louis, St. Charles, Hazelwood and surrounding areas.

If you act now, you instantly receive the ultimate Nissan Sentra SR Midnight Edition deal. That's right! If you schedule your free test drive today, you can receive an exclusive Nissan Sentra SR Midnight Edition  price quote. How can you beat that?

If you can't wait, fill out the free online form above. It's quick. It's easy. And, it's free. Plus there are no obligations. You will instantly receive a free test drive and an awesome Nissan price on this car. So, what are you waiting for?

Fill out the free online form above!
If you want to learn more about this vehicle, check out our Nissan SR Midnight Edition review, below.