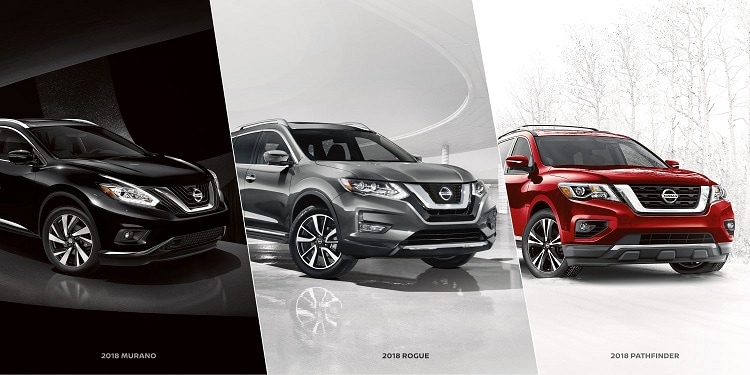 Explore Our Huge Selection  Of New Nissan SUV Models For Sale  Near St. Louis, MO 
Looking for your next adventure? Climb inside of a new 2018 Nissan SUV  model for sale near St. Louis.  Come explore our huge selection of crossover and midsize sports utility vehicles for sale near you. Revved up with excitement, we are proud to offer the new 2018 Nissan Murano, Rogue, Rogue Sport, Pathfinder, and the new Armada. Engineered  with  long-lasting, award-winning, high-quality  Nissan features, each of Nissan SUV's are built to go the distance. And, don't worry about size. Whether you're looking for a comfortable crossover SUV  with spacious 5-passenger seating, or an enormous three-row seven-passenger family sized SUV, we've got you covered. And that doesn't even take into account extraordinary  Nissan SUV deals that we have going on. That's right! From Nissan SUV lease  specials, to incredible finance options, we've got everything you need to start your adventure off right. And oh yes, let's not forget,  we also offer a wide range of  model trims  so you can explore more options at your convenience. Astonishing, isn't it! Believe it or not, that's just the beginning!  There's a lot more in store where all of this comes from. But, don't just take our word for it. Take a look for yourself. Check out all of the amazing awards and benefits that each of our new Nissan SUV's has to offer, below. Once your done, make your way down to our local Nissan dealership and schedule your free test drive. We are located at 10964 Page Ave Saint Louis, MO 63132. We look forward to helping everyone get their hands on a new St. Louis Nissan SUV.

Ready? Let's get started!